| | |
| --- | --- |
| | HOW WE WORK |
Our method is to choose a car or bike model with all of its history and the relative model.
As before thing, we find and we analyze in scientific way the documentation and we check all the declared data by the various available classic documentations, first of all the horse-power, the RPM, the maximum speed. Moreover, we find those quantity that surely they have never been measured and we begin to analyze total vehicle and its available components, testing the engine at dynamometer and making a study on the possible performances, redrawing determined parts (those that serve to the purpose). Then, we do a very "deep" analysis of each component of vehicle, in the planning, in the form and in the material and we get all the particulars in the planning and in the whole vehicle. A future step is to realize "special" bikes, in the technical style and methods of that period (even for some model using some more modern solutions). This is an enormous job, as that to plan an entire engine, without naturally the burden to decide what solution to choose because all it is already definite, but only to understand those choices and to deep completely the subject. We stareted this scientific "travel" from th the mythical "Guzzi" bike!
THE LEADER INTERVIEW (ITA)

| | |
| --- | --- |
| | OUR SERVICES AND HOW WE USE THEM |
INGEGNERIA D'EPOCA, because of its own experience in the motoristic world, follows the sector of the planning of classical vehicles. Our purpouses are to become a scientifically unexceptionable point of reference for all impassioned people who like to study classical vehicles from a scientific point of view (not only from an aesthetical and "emotional" point of view), using rigorous methods of measurement and calculation offered by the modern technology.
For example, when we will publish "Sport 15" timing it will be the result of long researchs in the the original classical documentation, calculations through the original components schemas and finally direct measurements on the real engine.... we speak therefore of "reasonable" certainty. It means to become an historical point of reference.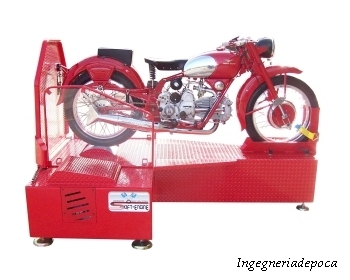 A Motorbike Guzzi "Falcone Sport" is going to be tested
at Soft-Engine "Braker 150" dynamometer

| | |
| --- | --- |
| | OUR RESOURCES |
TESTS AT DYNAMOMETERS: our sponsor, Soft-Engine company, is one of the main dynamometers manifacture company. Thanks to it, it is possible to test classic engine and vehicles with these computerized dynos. In fact with by Soft-Engine dynamometers it's possible to measure Horse-power, Torque, carburation data with Lambda device etc... For so ancient bikes, it is a really special source of data!

An engine head ready to flow

SHOCK-ABSORBERS DYNAMOMETERS: Soft-Engine company uses its shock-absorbers dynamometers to discover the performances of the various types of dampers. So, it's possible to study the the suspensions evolution, above all of the friction dampers of which few data are available.

FLOW BENCHES: Soft-Engine is also leader in the production of flow benches. One of the employments of this new bench are to measure the flow rate (and calculation of the flow coefficient) of the classic engine's cylinder heads (for example the Guzzi cylinder heads) to delineate the history of the engine gas-dynamics.

PLANNINGS AND SIMULATIONS: INGEGNERIA D'EPOCA, thanks to the background planning and simulations, plans engine parts and calculates the performances with the Soft-Engine well-known engine simulation softwares also using the most modern 3D CAD planning software. The target is to re-planning vehicle and engine parts, using modern methods but with the same skill and competence of several years ago, studying the classic documentation (books of beginning century, magazines etc...).

Three "Moto Guzzi" cylinder heads

"Ingegneria d'Epoca" has got a great documentation

THE CLASSIC - Lancia plannings...

...AND THE MODERN - "Moto Guzzi Sport 15" cylinder, planned with a 3D CAD software