| | |
| --- | --- |
| | THE "MANUALE DI INGEGNERIA D'EPOCA" |
The first volume is devoted Guzzi to the Motorbike. Monographs on the race bikes like Condor, Dondolino and Gambalunga, with unpublished drawn and photographic documentation, technical analysis etc... Besides, dynamometer tests (not easily available on other texts) of a "Falcone" with different configurations of camshafts and exhaust, the results in comparison with other tests.
Finally, the first chapter of the book Il manovellismo Guzzi, dalla Normale al Falcone" ("The Moto Guzzi crankshaft, from the Normale to the Falcone")
The index of the matters treated In the FIRST VOLUME, born in February 2011.
All the articles and matters, together with many others, will be subsequently developed in the following numbers of this publication.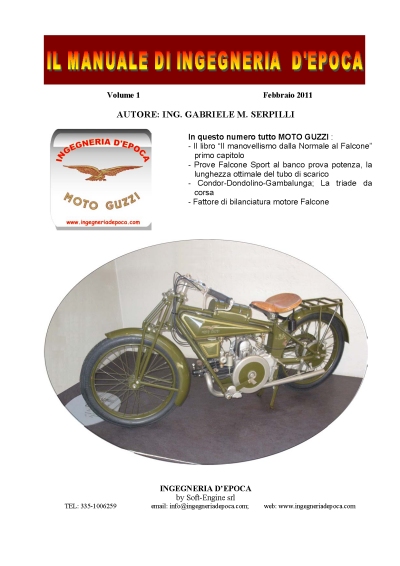 Moto Guzzi
The crank gear, the engine static balancing, the "Falcone" engine model, the distribution and the frame subjet.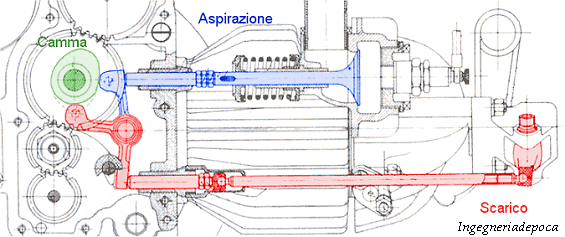 "Condor"-"Dondolino"-"Gambalunga"
Technical-historic analysis of the famous three racing models. In particular, study about mechanics and distribution.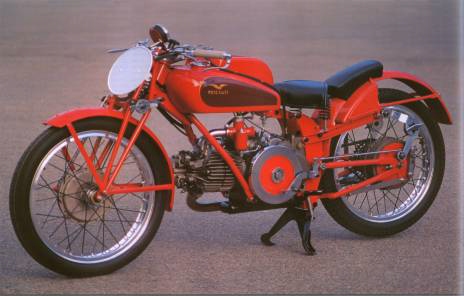 Condor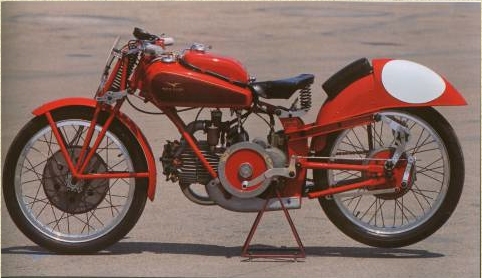 Dondolino
Gambalunga
Our crank-cases
Instructions about "G.T.V." with camshaft "Falcone"
Phase regulation of valves, lighting, carburization, with images and charts.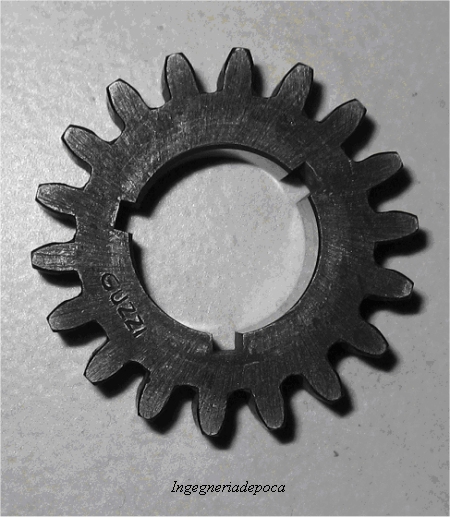 Crankshaft pinion
Dynamometers test for a "Moto Guzzi Falcone"
Very interesting test of carburization, as the curve of the "Air/Fuel" ratio changes varying the throws. Besides, tests silencer, varying the length of the exhaust duct, and horse-power variations; exhaust tests direct with different lengths.
Dynamometer test and the comparison of a modified Falcone, that are able well to call "Supersport": as would be been able to be!!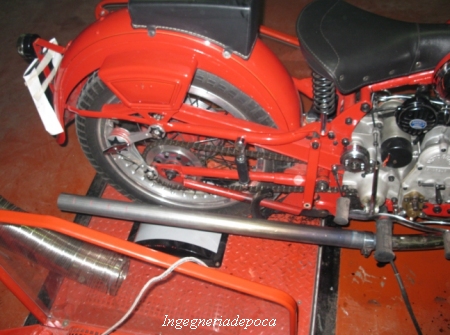 Moto Guzzi Falcone during the test, more lenght for exhaust
Editorial: There was once… Classic Bricolage of epoch drawn by the "the mechanics' Newspaper"
Finally, a book, published to episodes:
BOOK TO EPISODES ABOUT CRANK GEAR
We publish the first chapter of the book "Il manovellismo Guzzi, dalla Normale al Falcone" ("The Moto Guzzi crankshaft, from the Normale to the Falcone") by Eng. Serpilli.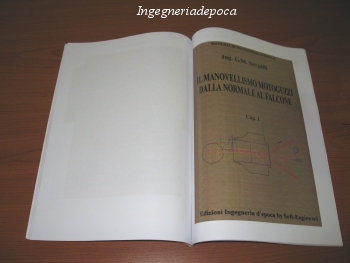 | | |
| --- | --- |
| | HOW TO ORDER THE "HANDBOOK" |
You can order the classic material phoning the number 0039-335-1006259 or with by a fax, number 0039-071-9189118 (E-mail: info@ingegneriadepoca.com).
€ 30,00
for expedition: + € 15,00 for EU
PAYPAL (mail address: rovincent@alice.it)