| | |
| --- | --- |
| | THE "MANUALE DI INGEGNERIA D'EPOCA" |
Here the second volume, about Moto Guzzi motorbike. Interesting and unpublished tests at flow bench of "Falcone" cylinder heads, with "experiments" changing ducts in aspiration-exhaust and valve exchanging among the principals models. "Dondolino" engine dynamometer tests , with variation of the ducts in aspiration and exhaust and analysis of the performances! The Moto Guzzi monographs continues, in this number there is the study of gear and transmission, particularly "Normale" and "C2V". Finally, the editorial on our classic printouts...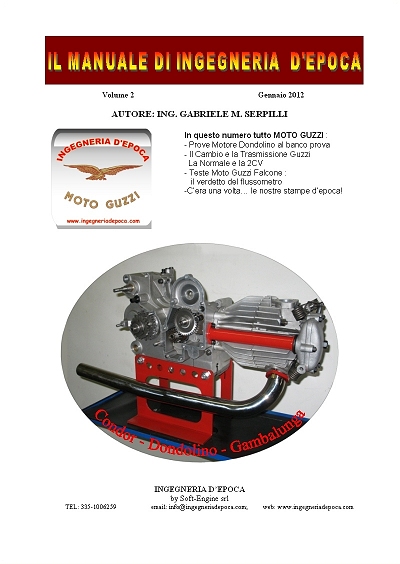 The index of the matters treated In the SECOND VOLUME, born in January 2012.
All the articles and matters, together with many others, will be subsequently developed in the following numbers of this publication.
Dynamometer test Dondolino
Interesting "Dondolino" engine dynamometer tests, varying the intake horns and the exhaust configuration, also testing different kind of silencers made in "Ingegneriadepoca". All the results, with a lot of diagrams and charts.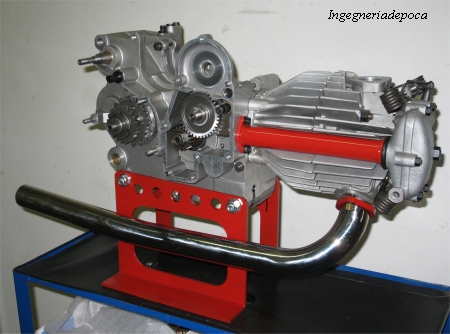 Dondolino engine
The Guzzi Gear and transmission
Very important article about Guzzi main models transmission, "Normale", "Falcone" and the mythical race bike "C2V". Schemes of the transmission, technical descriptions, historical analysis and rules for the maintenance.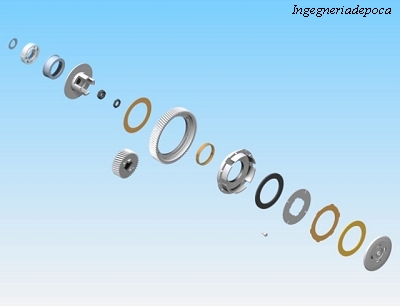 Guzzi friction 3D layout
Guzzi Falcone cylinder heads: the truthful of flow bench
Unpublished! Some cylinders heads heads Guzzi "Falcone" tested to the flow bench, to measure the flow and the coefficient of flow, and so the performances of the intake and exhaust ducts. For the first time you can find here all the results. Interesting experiments of valve exchange valves among heads.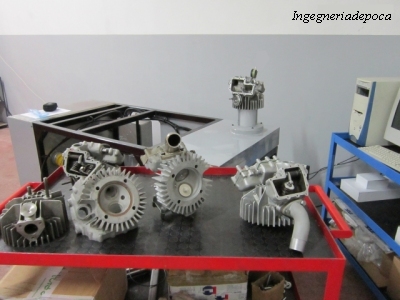 The cylinder heads tested at flow bench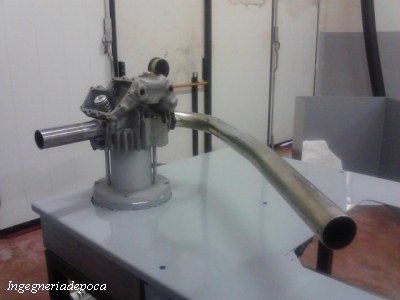 A cylinder head during a test with pipes.
This si a straight pipe "experimental".
Editorial: There was once… Classic printouts

| | |
| --- | --- |
| | HOW TO ORDER THE "HANDBOOK" |
You can order the classic material phoning the number 0039-335-1006259 or with by a fax, number 0039-071-9189118 (E-mail: info@ingegneriadepoca.com).
€ 25,00
for expedition: + € 15,00 for EU
PAYPAL (mail address: rovincent@alice.it)