| | |
| --- | --- |
| | THE "MANUALE DI INGEGNERIA D'EPOCA" |
The third volume, devoted to Moto Guzzi is a full of articles and images about Guzzi's world. It contains a notable study on the distribution of the "Normale", in which the criterions of cam planning and classic designs are published. Also, the article about "Condor"-"Dondolino" and "Gambalunga", with the study on the "third bearing" - "Faenza" modificarion (1948), the cylinder heads of "Dondolino" and the re-planning of the "Condor" frame. The study and the test about Guzzi heads continues. In this article, we variate the cams (experimentation with 5 different cams) and the intake and exhaust ducts. Moreover, there is a reportge about the visit, near our studies, of the staff of the "Motio Guzzi Classics Club of Schio (Italy), to whose president we have tuned the Falcon and of which, click here to see a video about this. Finally, the aesthetical study of a Falcon.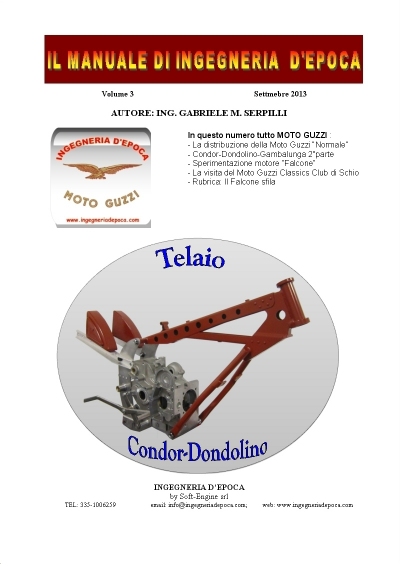 The index of the matters treated In the THIRD VOLUME, born in September 2013.
All the articles and matters, together with many others, will be subsequently developed in the following numbers of this publication.
The "Normale" distribution
It is the third article about the "Normale", studies on the distribution, the cams, their realization, their re-planning and the study on the balancers.
"Condor"-"Dondolino"-"Gambalunga" - part 2nd
The study on the famous three run motorcycles Guzzi continues, particularly the study of the "third bearing, Faenza modification" (1948) and the analysis and tests of the heads, of the ducts and the re-planning of the frame.
"Falcone" Engine experiments: cams, ducts
Test at flow bench of Falcon heads with different preparations, varying intake and exhaust ducts and experimenting five types of different cams.
The visit of Moto Guzzi Classics Club of Schio (Italy)
The Reportage about the visit near "Ingegneria D'Epoca" studies, of the staff of the "Moto Guzzi Classics Club" of Schio, to whose president has tuned its Motorbike Guzzi Falcone.
Editorial: the "Falcone" shows itself!
Aesthetical  study on the "Falcone" body, here as would be been able to become! Graphic study realized using realistic considerations.

| | |
| --- | --- |
| | HOW TO ORDER THE "HANDBOOK" |
You can order the classic material phoning the number 0039-335-1006259 or with by a fax, number 0039-071-9189118 (E-mail: info@ingegneriadepoca.com).
€ 30,00
for expedition: + € 15,00 for EU
PAYPAL (mail address: rovincent@alice.it)